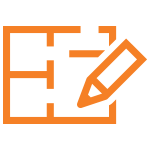 With a bit of smart planning now, your business can have a space that works for years to come.
Work has changed. Most offices haven't. Our experienced team of designers will work closely with you to create a space that better reflects who you are and supports what you do. 
We consider every element in the mix – from your team structure and departmental adjacencies to your company's growth plans and goals. We then analyze, plan, and design how to best optimize your workspace. Our team will provide you with 2D and 3D drawings and product selections, helping you envision your workspace and make it a reality.
Workspace Strategy
Project Management
Office Reconfiguration
LEED & Sustainability